PANASONIC PT-MZ680 (LCD Laser / 6,000 lm / WUXGA)
Well-Balanced Picture Quality
Tuned for Optimal Brightness and Color
Refined optical engine delivers an ideal balance of high brightness and vivid color for clear visibility in well-lit rooms. With a selection of display modes optimized to suit different kinds of content and screen surfaces, and dynamic optimization technologies that continuously adjust the image to suit environment and content, your audience will enjoy comfortably visible pictures without turning the room lights off.
Dynamic Contrast
To best suit the projected content or operating environment, Dynamic Contrast analyzes the input signal frame-by-frame and directly adjusts light-source output according to the contrast requirements of each scene. As well as increasing overall contrast precision, Dynamic Contrast more accurately reproduces scenes where light and dark images frequently interchange.
Daylight View Basic
Daylight View Basic helps deliver sharp, clear images by enhancing detail particularly in dark areas of the image that are otherwise difficult to see in brightly lit rooms. A built-in sensor measures ambient light while Daylight View Basic optimizes halftone color and adjusts brightness according to the surrounding level of illumination.
Detail Clarity Processor 4
Proprietary circuitry analyzes individual video frames to clarify areas of each image containing fine details. Algorithms extract data from four frequency bands of the signal, sharpening outlines, correcting contours, and reducing ringing noise for increased text definition and clearer detail resolution in video and graphics.
Flexible Design Fits Any Space
Unobtrusive Cabinet Blends into the Room
Elegant new cabinet styling helps these projectors blend into the room environment. Use of black for the recessed base makes the side and front panels appear slimmer. By combining unobtrusive styling with quiet operation and clear image visibility, the projection (not the projector) becomes the focus of attention. All-black versions are available for easy concealment in dark environments, such as museums.
Quiet Operation Increases Immersion
With lessons, meetings, conferences, and other events increasingly being held online, it's important that noise from the projector doesn't draw attention away from the presentation. Silent projection helps people focus, whether they're in the room or participating remotely. PT-MZ880 Series includes a Quiet Mode enabling almost inaudible 26 dB* (PT-MZ780/MZ680) or 27 dB* (PT-MZ880) operation, helping these projectors fit unobtrusively into the installation environment while keeping attention focused on the presentation.
* Operating noise is 32 dB in Normal Mode/Eco Mode (PT-MZ780/MZ680) and 34 dB in Normal Mode/Eco Mode (PT-MZ880).
Optional Powered Lenses Including New Ultra-Short-Throw Zoom Lens
PT-MZ880 Series ships with a 1.61–2.76:1 powered zoom lens and supports a selection of optional fixed and zoom lenses to suit your preferred projector location. These optional lenses include a new zero-offset ET-ELU20 Ultra-Short-Throw Zoom Lens*1, making this projector series not only a great fit for education and corporate use, but also for museum exhibition. When paired with a compatible powered lens, projectionists can perform zoom, focus, and V/H lens-shift adjustments using the projector remote control or Smart Projector Control app*2.
*1 Use of lens requires PT-MZ880 Series with main projector firmware Ver. 1.03 or later. Visit PASS for more information.
*2 Some app functions are not supported by the PT-MZ880 Series. Check device compatibility at App Store or the Google Play Store.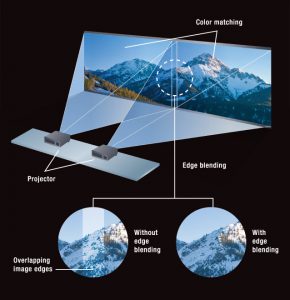 Multi-Screen Support System
Edge Blending
Edges of adjacent screens can be blended and their brightness controlled.
Color Matching
Corrects color reproduction variations of each projector via PC control software.
Digital Image Enlargement
Digital zoom* up to 3x (H/V). Up to nine images (3 x 3) can be edge-blended to create large multi-screen images.
* While input resolution will not change, maintaining image quality is not possible for images enlarged horizontally and vertically via the digital zoom function.
Contrast Sync and Shutter Sync
Contrast Sync synchronizes Dynamic Contrast value among multiple projectors connected via serial in/out terminals. This function increases the uniformity of individual images in a multi-screen system and reduces the visibility of overlapping areas of adjacent images for a seamless widescreen image. Shutter Sync, meanwhile, synchronizes shutter on/off timing for professional fade-in/fade-out effects.
Geometry Manager Pro Software (Geo Pro Software) with Free Grid
Geo Pro software makes edge-blending calibration and screen geometry adjustments via Windows® PC easy. Overlay Free Grid on the projected image to reshape distorted areas by adjusting the position of node or V/H line control-points. Grids of between 2 x 2 and 11 x 11 lines are selectable, and work progress is saved automatically so you can move freely between grid resolutions. Grid and control-point colors are selectable to ensure clear visibility over the projected image.
Note: some functions available in Geo Pro software are not supported by the PT-MZ880 Series. Download Geometry Manager Pro free from the PASS website.
Built-in Geometric Adjustment Functions
Geometric Adjustment is a suite of functions built into the projector operated via the projector remote control that allow installers to correct distortion when images are projected at an angle, onto curved screens, or over irregular screen surfaces. Correction extends to spherical, cylindrical, and other complex screen shapes without need of a connected PC. Maintain Aspect Ratio and independent Corner Adjustment simplify correction while the ability to save image-adjustment data is useful whenever correction settings needs to be disabled and reapplied, and for saving work progress as an adjustment profile is created.
Three HDMI Inputs Support CEC Commands
HDMI inputs are compatible with control signals sent via a CEC-command-compatible component, giving you limited control over the projector using the compatible source device's remote control. The projectors power up from Standby and commence playback automatically on command from a compatible player, such as optional Wireless Presentation System PressIT, when connected to the projector via HDMI.
Supports 4K Signal Input to Fit Your System Infrastructure
PT-MZ880 Series is compatible with 4K input signals, accepting 4K/60p video* via HDMI inputs or DIGITAL LINK terminal. This capability is useful when integrating the projectors into existing 4K-ready system infrastructure or when it's necessary to distribute the same 4K signal to a network of endpoints with different display resolutions without having to use an external converter or to reencode the source.
USB-DC Output Supports Wireless Presentation System PressIT
The projectors include a 5 V/2 A USB-DC terminal to power optional Wireless Presentation PressIT*1 or an HDMI network streaming device so that groups can easily share content to the big screen from their PCs or mobile devices. PressIT comprises a transmitter that works with Windows PC, Mac, and mobile devices, and a receiver that connects to your projector's HDMI port. The transmitter connects to receiver wirelessly with a single press and allows users to display their device-screen at full size. You can also connect a supported network media streaming device via HDMI and USB for a neat, self-contained installation.
Separate LAN and DIGITAL LINK Terminals
You can choose to control PT-MZ880 Series projectors via a dedicated LAN terminal or the HDBase-T™-based DIGITAL LINK connection. Both support 100Base-TX- and 10BaseT-compatible control signals via Panasonic, Crestron Connected™, AMX, and Extron® applications. With control enabled via LAN, DIGITAL LINK is free to transmit video over long cable runs of up to 150 m* (492 ft).
Works with Smart Projector Control App
Smart Projector Control is a remote-control app for iOS and Android™ devices that can be used to adjust, control, and monitor up to 64 projectors individually or simultaneously from anywhere within range of the wireless network. You can use the app to switch the unit on or off, select an input signal, and adjust the projector's OSD menu settings via your device's touchscreen while the projector is in standby or powered up with the shutter on. Projectionists can avoid delays by adjusting OSD settings via smartphone whenever OSD menu projection is inconvenient, such as immediately before a presentation starts. As well as enabling OSD menu operations, the app can be used to adjust lens settings, select test patterns, and focus the projection using your phone camera*1 from distances of up to 30 m*2 (98 ft) away. For more information, visit the Smart Projector Control website.
Color Adjustment
Correct slight variations in the color reproduction range of individual units set up for multiple projection, particularly those in side-by-side configuration. Correction is performed on 3 or 7 colors.
Efficient Eco-Friendly Reliability
Reduced Power Consumption
Power consumption is about 20 %* less than previous models. These savings scale with every projector added to your fleet and make a significant contribution to your organization's efforts to reduce its carbon footprint.
Multi-Laser Drive Engine with Failover Circuitry
Multi-Laser Drive Engine equips multiple laser modules and heat-resistant inorganic phosphor-wheel to enhance projection stability and efficiency. The modules are equipped with proprietary Failover Circuitry. If a single laser diode fails, only diodes in the affected series are bypassed rather than all diodes in the module, as is the case with other projectors. Projection can continue with imperceptible loss in brightness. Failover Circuitry provides an invaluable layer of insurance in situations where image display must be maintained.
Low Maintenance 20,000-hour Operation
Projector maintenance is recommended at about 20,000 hours* to reduce time, cost, and effort to your organization. Long-life laser light-source eliminates hassles associated with lamp disposal (which sometimes contain specified toxic substances) and reduces your consumable parts inventory.
Reduced Waste with Lamp-free Design and Eco Filter
Eco Filter includes a Micro Cut Filter that collects minute dust particles with an electrostatic effect. Together with dust-resistant projector cabinet, Eco Filter enables long-term use in dusty conditions with less downtime. Replacement is at about 20,000 hours*1, and the filter can be washed and reused*2. And thanks to the projector's long-life laser light-source, there's no hassles associated with lamp disposal.
ECO Management System
Energy efficiency is achieved by automatically reducing light-source output power in dim rooms, and by transitioning to a low-power mode when no input signal is detected. These functions are readily accessed via a key on the projector remote control.
Less Packaging for Easy Disposal
Recyclable packing for the projector, accessories, and consumable parts—which can add up in the context of a fleet—is reduced in line with your organization's CSR policy objectives.
Multi Monitoring & Control Software with Optional Early Warning Functions
Panasonic's free AV management software for Windows® PC lets you monitor and control up to 2,048 compatible display devices of any brand via LAN to reduce maintenance hassle within display networks of any scale. Multi Monitoring & Control Software enables easy status monitoring, control-command execution, content playlist delivery, playback scheduling, and system map visualization. A free 90-day trial of optional Early Warning software is included and adds extra functionality. It notifies you in the event of a playback or device error, and sends alerts when symptoms of trouble are detected. Maintenance reminders help you to manage parts inventories and to schedule maintenance, while operational reports can be generated and exported as a text file. The software links with compatible network cameras for live screen monitoring, and you can monitor devices remotely from a tablet via VPN. Software data may be acquired via Web API and installed onto an existing monitoring application.
Projector type
LCD projectors
LCD panel
Panel size
19.3 mm (0.76˝) diagonal (16:10 aspect ratio)
Display method
Transparent LCD panel (x 3, R/G/B)
Drive method
Active matrix
Pixels
2,304,000 (1920 x 1200) pixels x 3
Light source
Laser diodes
Light output*1*2
6,000 lm
Time until light output declines to 50 %*3
20,000 hours (NORMAL/QUIET)/24,000 hours (ECO)
Resolution
WUXGA (1920 x 1200 pixels)
Contrast ratio*1
3,000,000:1 (Full On/Full Off)
(When [PICTURE MODE] is set to [DYNAMIC] and [DYNAMIC CONTRAST] is set to [1] or [2]. HDMI signal input)
Screen size (diagonal)
1.02–10.16 m (40–400 in), 1.52–10.16 m (60–400 in) with the ET-ELW22, 2.54–10.16 m (100–400 in) with the ET-ELU20, 16:10 aspect ratio
Center-to-corner zone ratio*1
85 %
Lens
Powered zoom (throw ratio 1.61–2.76:1),
powered focus F = 1.7–2.3, f = 26.8–45.5 mm (for supplied lens; optional lenses also available)
Lens shift
Vertical
(From the origin point of the lens mounter)
±67 % (powered) (for supplied lens; optional lenses also available*4)
Horizontal
(From the origin point of the lens mounter)
±35 % (powered) (for supplied lens; optional lenses also available*4)
Keystone correction range
Vertical: ±25 °, Horizontal: ±30 ° (for supplied lens; optional lenses also available*4)
Installation
Ceiling/floor, front/rear, free 360-degree installation
Terminals
HDMI IN
HDMI 19-pin x 3 (Compatible with HDCP 2.3, Deep Color, 4K/60p*5 signal input), CEC supported
COMPUTER IN
D-sub HD 15-pin (female) x 1 (RGB/YPBPR/YCBCR)
MONITOR OUT
D-sub HD 15-pin (female) x 1 (RGB/YPBPR/YCBCR)
SERIAL/MULTI SYNC IN
D-sub 9-pin (female) x 1 for external control/link control (RS-232C compliant)
MULTI SYNC OUT
D-sub 9-pin (male) x 1 for link control
REMOTE 1 IN
M3 stereo mini-jack x 1 for wired remote control
REMOTE 2 IN
D-sub 9-pin (female) x 1 for external control (parallel)
AUDIO IN
M3 stereo mini-jack x 1
AUDIO OUT
M3 stereo mini-jack x 1
DIGITAL LINK/LAN
RJ-45 x 1 for network and DIGITAL LINK connection (video/network/serial control) (HDBaseT™ compliant), 100Base-TX (Compatible with PJLink™ [Class 2], Art-Net, HDCP 2.3, Deep Color, 4K/60p*5*6 signal input)
LAN
RJ-45 x 1 for network connection, 10Base-T, 100Base-TX (Compatible with PJLink™ [Class 2], Art-Net)
DC OUT
USB Connector (Type A) x 1 (Output 5 V/2 A)
Power supply
AC 100–240 V, 50/60 Hz
Power consumption*7
Maximum power consumption
360 W (4.2–2.0 A) (395VA)
(Power consumption is 345 W at 200–240 V)
On-mode power consumption
(Light power)
[NORMAL]: 330 W (100–120 V), 315 W (200–240 V), [ECO]: 240 W (100–120 V), 230 W (200–240 V), [QUIET]: 238 W (100–120 V), 228 W (200–240 V)
Cabinet materials
Molded plastic
Filter
Included (Estimated maintenance time: approx. 20,000 hours)
Operation noise*1
32 dB (NORMAL/ECO), 26 dB (QUIET)
Dimensions (W x H x D)
561 x 190 x 437 mm (22 3/32˝ x 7 15/32˝ x 17 7/32˝) (not including lens or protruding parts)
Weight*8
Approx. 17.6 kg (38.8 lbs) (with supplied lens)
Operating environment
Operating temperature: 0–45 °C (32–113 °F)*9, operating humidity: 20–80 % (no condensation)
Applicable software
Logo Transfer Software, Multi Monitoring & Control Software, Early Warning Software, Smart Projector Control for iOS/Android™, Geometry Manager Pro*10